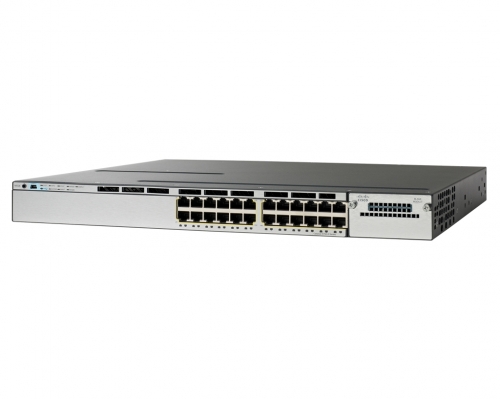 WS-C3750X-24T-L
Cisco Catalyst 3750-X - WS-C3750X-24T-L
Neto
US$
3,468.73.-
19 % IVA
US$
659.06.-
TOTAL
US$
4,127.79.-
TOTAL
Ch$
2.848.174.-
Stackable 24 10/100/1000 Ethernet ports, with 350W AC power supply 1 RU, LAN Base feature set
Cisco Catalyst 3750-X and 3560-X Series primary features:
• 24 and 48 10/100/1000 PoE+ and non-PoE models
• Optional four Gigabit Ethernet (GbE) SFP or two 10GbE SFP+ uplink network modules
• Industry first PoE+ with 30W power on all ports in 1 rack unit (RU) form factor
• Dual redundant, modular power supplies and fans
• Media Access Control Security (MACsec) hardware-based encryption
• IPv4 and IPv6 routing, Multicast routing, advanced quality of service (QoS), and security features in hardware
• Enhanced limited lifetime warranty (LLW) with next business day (NBD) advance hardware replacement and 90 day access to Cisco Technical Assistance Center (TAC) support
• Enhanced Cisco EnergyWise for operational cost optimization by measuring actual power consumption of the PoE devices, reporting, and reducing energy consumption across the network
• USB Type-A and Type-B ports for storage and console respectively and an out-of-band Ethernet management port.
In addition to the above features, the Cisco Catalyst 3750-X switches also offer:
• Cisco StackPower™ technology: An innovative feature and industry first for sharing power among stack members
• Cisco StackWise Plus technology for ease of use and resiliency with 64 Gbps of throughput
• Investment protection with backward compatibility with all other models of Cisco Catalyst 3750 Series Switches
Switch Configurations
All switch models can be configured with the optional four GbE or two 10 GbE network module. The switch models are available with either the LAN Base or IP Base feature set. IP Services feature set is available as an upgrade option at the time of ordering or through a license at a later time.
Stackable Switches
Figure 1 shows the Cisco Catalyst 3750-X Series Switch (front and back).